Payment methods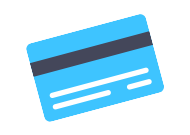 We accept several convenient and secure payments methods including: PayPal and Cryptocurrency via Coinbase Commerce Panel (We accept Bitcoin, Bitcoin Cash, Ethereum, Litecoin, USDCoin).
Please note: if you have made a payment through Paypal the payment process takes place in 24 hours. If you have made a payment through Cryptocurrency, the payment process can take from 5 to 8 working days.

We have a payment platform with the following security level:
The user can withdraw the payment without incur in any penalties.
We apply a chargeback policy
All the payments methods are handle by a specific platform protected by TLS (Transport Layer Security)
Our platform is fully protected by HTTPS (Hypertext transfer protocol security) which include
1. Web site identification
2. Privacy protection
3. Data exchange integrity between all the parties involved.
Notice to customers about scams: we are constantly subject to attempts at fraud by malicious parties. It can happen that someone steals your PayPal account or your credit card and try to make purchases on our shop. Our security team checks every single transaction and in case of suspicious data, we promptly notifies the customer before confirming the order. We do not accept orders when the shipping address does not match the billing address or when the data is suspicious. Every transaction is subject to revision by our security team.

Notice to scammers: we have your data, your ip address (even if protected by VPN service) and every attempt is reported to the competent authorities.